The planet Earth is an endless landscape of natural beauty, populated by people of many different cultures, races, and ethnic groups, each speaking various languages and practicing numerous religions. No matter one's religion, language, race, culture or ancestry, we are all one human race living on one planet. We have inherited the planet Earth from our ancestors; therefore it is an important part of our heritage, traditions, and cultures that make us who we are today. To appreciate our landscapes and the beauty of our planet, one must explore and appreciate its many wonders. Whether one lives in the suburbs or the city, it is most likely it is a short drive to see the beauty of the Earth's landscapes that surround us.
Aside, from nature's scenery, there are many geographical settings that are a huge part of our heritage and civilization. Many of these landscapes are defined as cultural landscapes, "geographic area where a historical event or places which show evidence that a person or a group of people have had a cultural impact"(NPS). The Cultural Landscape Foundation defines these landscapes, "as those sites that include historic sites, historic designed, historic vernacular and ethnographic landscapes, which reveal aspects of the country's origins and relationships with the natural world"(TCLF).
Many countries have their own cultural landscapes that attract visitors from around the world, each offering its own unique aspects of the world and "provides scenic, economic, ecological, social, recreational, and educational opportunities"(TCLF). These cultural landscapes are pictures, similar to a family portrait, which one cherishes, protects and preserves for the future generation. These images tell a story that teaches us about our history, cultures, and traditions.  One cultural landscape that is an important part of North American heritage is "Yosemite National Park, which is situated in California's central Sierra Nevada Mountain Range"(NPS). This American antiquity is rich in "ethnographic landscapes, which are natural resources that connect people with heritages, land settlements, sacred religious or ceremonial grounds, communities, and geological structures" (TCLF). This federally designated park consists of 747,956 acres of wilderness, roughly the size of the state of Rhode Island and is home to five of the world's highest waterfalls and groves of Giant Sequoias (NPS).
Yosemite is an archaeological wonder, which tells the story of America's rich history long before Christopher Columbus came to America. The recorded history is that of "the first settlers, the Ahwahneechee, the Native American people who lived on the land 8,000-10,000 years ago (Hamilton 12). According to US Parks website" the native people of Yosemite had a rich heritage and culture of traditions, religion, songs" and lived fairly peacefully in the Sierra Nevada foothill, until the arrival of Euro-American miners (US Parks). During the California Gold Rush (1848-1855), European- American settlers traveled to the Sierra Nevada to mine the land and seek their fortunes (Hamilton 12). Soon after their arrival, the local natives desperately tried to protect their homeland from the white settlers' greed and the damage they are doing to their land. By 1849, thousands of miners had settled in the Sierra Nevada, forcing the natives in the valley region. In retaliation, the native attacked the prospectors, leading to Mariposa War in December 1850 (Military Museum). In hopes of ending the conflict, James Savage, a businessman, and soldier of the Mexican-American Savage organized a militia of miners, who called themselves, the Mariposa Battalion, to violently force out the native populations and take over the land for the mining of gold (US Parks). The war ended in July 1851, with the signing of a peace treaty and also led to the discovery of the Yosemite Valley (Military Museum). The discovery spread across the world, drawing more settlers to the area.
In the years that followed, given Yosemite's uniqueness of natural landscapes and formations, the park attracted photographers and artist to create images of the majestic landscape, hence nicknaming it "The Incomparable Valley" (NPS). The valley also caught the attention of scientist, historians, and educators, who studied the landscape and the natural environment (NPS). However, over time the valley began to show signs of ecosystem damage, and for that reason, President Abraham Lincoln stepped in and created the "Yosemite Grant Act, to protect Yosemite Valley and the Mariposa Grove"(MilitaryMuseum.org).  The act was signed in 1864, "relinquishing the land to the State of California, making it the first land ser aside wholly for preservation, public use and our nation's first state park"(Military Museum.org).
According to the National Park Service, "an estimated 4 million people from around the world visit the park each year to enjoy the majestic beauty and history of yesterday"(NPS). For the outdoor adventurer, the park offers camping, hiking and for the more adventurous, the thrill of rock climbing. Tourists can explore the historic mining sites, tour the primate lodging establishments, and villages of the people. For educators, students and visitors who want to learn the history and explore the geological findings, the Yosemite Museum houses a magnificent collection of more than four million artifacts and over 10,000 books (NPS).
In 1984, UNESCO, the United Nations Educational, Scientific and Cultural Organization,  recognized  Yosemite National Park, "a natural and cultural heritage site which is valuable to humanity and the enjoyment of future generations" and declared it a World Heritage Site (UNESCO). As a WHS, Yosemite is protected by the mission of the , "an international partnership and legal presentation which safeguards cultural or natural places of outstanding universal value"(UNESCO). To date, there are 1677 sites on the WSH list, and each year more are added or removed. Currently, 55 WHS, in threat of disappearance caused by natural deterioration, causes or disasters, land development, war, and or changes in ownership (UNESCO). In 2016, Yosemite National Park was is such danger and needed the assistance of UNESCO to protect it.
For as Yosemite's tourism grew, so did its need for a park management plan, contracts, and services from outside the US Parks Service and eventually, Yosemite was operating like Disney World, with themed hotels, concession stands, restaurants, and attractions. With that came big business and profits for those businesses not associated with the parks service and government of California. Even though Yosemite is a national landmark and protected by the state of California and the federal government, the Antiquities Act, the Parks Service, and UNESCO, the park is in peril. It is not in danger of environmental issues or changes due to human impact, the danger lurches from a big commercial enterprise.
On March 1, 2016, US Park Service decided not to renew the contract of Delaware North, the hospitality company, who since 1993 operated the restaurants, hotels, shops, and other properties at Yosemite Park (Fuller). When the contract expired, the company took claim to the park's name and properties and refused to turn it over to the new hospitality company, Aramark (Hiltzik). Thus, forcing the National Park Service to either buy back the name or rename on the park, hotels, and attractions.  According to an article in the Washington Post,  journalist stated that on the day Delaware North's contract expired, two National Historic Landmark were renamed. "The Ahwahnee Hotel became the  Majestic Yosemite and Curry Village was renamed Half-Dome Village"(Kaplan).  All merchandise bearing the name "Yosemite National Park was removed from gift shop"(Kaplan).  According to an article written by attorneys Klein & Wilson, the lawsuit, "has transformed the park" [into a place where visitors feel as if] "greed has infiltrated" [their world] (Klein & Wilson). Changing the iconic names would take away everything we have come to know and cherish about the uniqueness, history, and heritage of the park. For the exclusive purpose of greed, a company is threatening to destroy the name of a national world heritage site, a global antiquity and a natural wonder of the world.
A similar case of the rights to cultural property is the political and scientific legal battle over Ã-tzi the Iceman who was found near Hauslabjoch in the Ã-tzal Alps.  According to the story, On September 19, 1991, two German hikers came across a well-preserved body of a man frozen in the ice (South Tyrol Museum). Since the "discovery site was in close proximity to the Austrian-Italian border, neither government knew who had claimed to the 5,300-year-old corpse (South Tyrol Museum). After an investigation by Austrian scientists and archeologists, who believed him to be an ancient Austrian Trader, they nicknamed him Ã-tzi, after the region in which he was found. (South Tyrol Museum). However, after further research, it was discovered that the Iceman was actually an Ancient Italian Trader and the Italian government demanded the return of their cultural property. In 2001, based on this scientific evidence, Ortzi was returned to his homeland and now rests in the South Tyrol Museum of Archaeology in Bolzano, Italy (South Tyrol Museum).
In the case of Delaware North vs.Yosemite, the battle is over the legal rights to the trademarked name of a national icon. According to an article by Thomas Fuller, in the NY Times, "the United States Trademark Act bars a trademark that falsely suggests a connection with a national symbol" (Fuller). Fuller furthermore states, "according to Sarah Maxwell, an official at the trademark office, the law bars trademarking national or state flags, but there was no explicit prohibition on the trademarking of other American icons"(Fuller)
According to Dan Jensen, a consultant to Delaware North, "trademarking is a standard practice and Delaware North just wants its successor, Aramark, to pay for the full value of the intellectual property it is now managing"(Hiltzik). Intellectual property"refers to creations of the mind, such as inventions; literary and artistic works; designs; and symbols, names and images used in commerce"(WIPO). In this lawsuit, the logos, images, and designs created by Delaware North are legally owned by them. Even though there are federal acts, and organizations like UNESCO to protect and preserve our national landmarks and cultural antiquities, there are loopholes that allow companies and groups to stake a claim to the properties. For example, many famous stadiums and arenas names are changed to sponsors' name.  To name a few, Riverfront Stadium, became Cinergy Field,  San Diego Stadium was renamed Petco Park and legendary Candlestick Park is now known as AT&T Park (Morran). Although stadiums aren't national landmarks, they still hold the same historical significant for those who grown up going to those stadiums. For instance, baseball player, Willie Mays played his last game of his career at Shea Stadium, not Citi Field. Larry Bird played basketball at the renowned Boston Garden, not at TD Garden.
When did we become a country where marketing and profit were more important that holding on to our heritage?  Our nation's capital is named after our first president George Washington. The Kennedy and Johnson Space Centers are named for presidents John F Kennedy and Lyndon Johnson, who supported the space program. Many buildings are dedicated to soldiers and others who have made the ultimate sacrifice for their country.  If we allow corporations to change the names of these properties, we are permitting them to disrespect the memory of these great people and our history. We should never allow corporations for the mere purpose of marketing their products to change the names of historical sites and national landmarks. What if Taco Bell, bought the Statue of Liberty, would it be renamed The Taco Bell Lady?  As more and more concessionaires, like Pepsi, Papa John, and Starbucks, are operating at historical landmarks, will the case of Delaware North set a precedent? Imagine Yellowstone Park, being Starbucks Park or Niagara Falls, renamed Papa John Falls. This is what will happen if we continue to consent to "commercialization of America".
As an American citizen, one should stand up to the greed that threatens to destroy our heritage. We should look beyond the laws and statutes that allow companies to take away the names of cultural landscapes and properties that represents our nation and its people.  It is our responsibility to protect and preserve this planet we inherited, and as in doing so, we are respecting and preserving the legacy of every World Heritage Site, so as to preserve the history for future generations.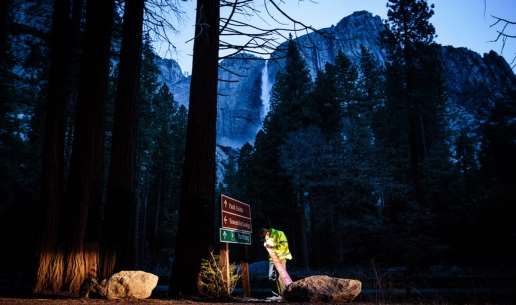 Works Cited
Beck, Warren A, and Ynez D Hasse. "California and the Indian Wars: Mariposa Indian War, 1850-1851." California and the Indian Wars: Mariposa Indian War, 1850-1851, www.militarymuseum.org/Mariposa.html. Accessed 2 Mar. 2017.
Fuller, Thomas. "Bitter Contract Dispute Extends to Who Owns Yosemite Names." The New York Times, The New York Times, 1 Mar. 2016, .
Hamilton, John. "History." Yosemite National Park, Abdo Pub., Edina, MN, 2005, p. 12.
Hiltzik, Michael. "The Corporate Grab behind the Yosemite Park Trademark Clash." Los Angeles Times, .
Kaplan, Sarah. "A Private Company Trademarked the Phrase Yosemite National Park. Should the U.S. Pay to Get It Back?" The Washington Post, WP Company, 21 Mar. 2016,   Accessed 10 Mar. 2017.
Klein & Wilson. "Defend Yourself against Copyright Infringement." Klein & Wilson, 1 Mar. 2017, www.kleinandwilson.com/blog/2017/03/defend-yourself-against-copyright-infringement.shtml. Accessed 2 Mar. 2017
Morran, Chris. "20 Years Ago, Only 1 Baseball Stadium Had A Corporate Sponsor; Now All But 9 Do."Consumerist, 27 Sept. 2016, consumerist.com/2014/02/06/20-years-ago-only-1-baseball-stadium-had-a-corporate-sponsor-now-all-but-9-do/. Accessed 11 Mar. 2017.
NPS. "Defining Landscape Terminology / Cultural Landscape Guidelines." National Parks Service, U.S. Department of the Interior, www.nps.gov/tps/standards/four-treatments/landscape-guidelines/terminology.htm. Accessed 6 Mar. 2017.
NPS. "Rethinking the National Parks for the 21st Century." National Parks Service, U.S. Department of the Interior, www.nps.gov/policy/report.htm. Accessed 5 Mar. 2017.
NPS. "Yosemite National Park Celebrates 120th Birthday on October 1." National Parks Service, U.S. Department of the Interior, www.nps.gov/yose/learn/news/yose120.htm. Accessed 5 Mar. 2017..
South Tyrol Museum of Archaeology. "The Discovery." South Tyrol Museum of Archaeology, www.iceman.it/en/the-discovery. Accessed 1 Mar. 2017.
TCLF. "About Cultural Landscapes." About Cultural Landscapes | The Cultural Landscape Foundation, The Cultural Landscape Foundation, 2001, tclf.org/places/about-cultural-landscapes. Accessed 6 Mar. 2017.
UNESCO. "UNESCO World Heritage Centre." http://whc.unesco.org/En/Culturallandscape, whc.unesco.org/. Accessed 2 Mar. 2017.
US Parks "Yosemite National Park History." Yosemite National Park History, National Parks Travel Guide & Road Trip Planning, www.us-parks.com/yosemite-national-park/history.html. Accessed 5 Mar. 2017.
WIPO. "What is Intellectual Property?" WIPO – World Intellectual Property Organization. Accessed Web. 12 Mar. 2017.
---