Effective Management Action Plan
Contents
 
The report aims to help understand distinct management competencies skills possessed and develop an Action Plan for effective management by taking the Personal Assessment of Management Skills (PAMS) test located in Carlopio and Andrewartha's textbook 'Developing management skills: A comprehensive guide for leaders,' (2012). A 6 choice Likert scale questionnaire of PAMS test helped in determining the strengths and weakness associated with each of the skills. To triangulate the analysis of competent skills, feedback from manager, co-worker and friend also assisted in final decision-making process.
The following graph represents the results of PAMS, which helped me and the mentors to rate my skills and decide to describe the two competencies, which need to be focussed.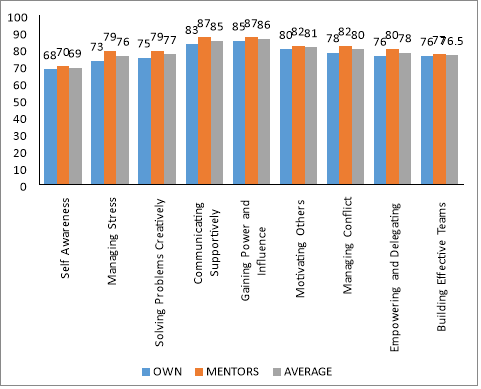 In assessing self-awareness competency, I scored 68% comparatively lower than other competency skills. It wasn't that I in sighted it as a weakness but due to the importance of skill in day to day life I wish to focus on improving it further since it determines emotional intelligence which relates to being smart, healthy and contented. The good was that I did reflect on incidents and tried to analyse shortcomings but the barrier was an image created whenever things went wrong and was not ready to accept wrong things and the same was hindering my personal growth. This was a major issue where everyone wanted me to work build self-confidence and inculcate positive sense of self-worth.
1) LITERATURE REVIEW:
Self-awareness is the ability to read and understand our emotions as well as recognise the impact on work-performance relationship. Self-awareness is crucial for productive interpersonal and personal functioning as it helps to understand and empathise people. It helps to acquire knowledge about underlying dimensions of personality and is associated with human behavioural skills of work performance, problem solving, creativity, motivation and life satisfaction (Goleman (1998b: 14)). The five core aspects of self-awareness are Emotional Intelligence, Values, Cognitive Style, Attitude towards Change and Interpersonal Style, which capture all the essential aspects of personality (Allan & Waclawski 1999; Atwater & Yammarino 1992; Goleman 1998a, 1998b; Parker & Kram 1993; Sosik & Megerian 1999). Hence being self-aware is being smart, knowing and well managing feelings, utilizing them to make good decisions, motivating with zeal and persistence, maintaining hope in face of frustration, exhibiting empathy and compassion, interacting smoothly and maintaining relationships in all walks of life. (Goleman (1998b: 14))
2) SKILL DEVELOPMENT ACTIVITY:
My deficiencies rooted from the fact I was quick in assuming things in which sometimes I missed on facts and was rigid of my judgement. So to develop the shortcomings not being judgemental after things do not work out and moving on accepting things and change is on priority in my to do list. In addition, the focus was to ensure all the facts and never assume things and take a quick decision based on incomplete assumptions. I started maintaining a reflective journal for the whole semester and would describe the situations and improvements, discuss them with my mentors to achieve long-term strategic improvement.
3) ASSESSMENT OF SKILL DEVELOPMENT:
During the final week of the semester I would again complete the evaluative surveys on Self Awareness in Carlopio and Andrewartha's textbook 'Developing management skills: A comprehensive guide for leaders,' (2012), page 124 and believe that there would be a significant improvement in my scores reflecting that issues of being rigid and over judgemental have been ameliorated.
Building effective teams is a group competency and I feel the need to master the skill since I aspire to become a successful Project Manager. The score for this skill from PAMS test by individual assessment was 70%, whereas peers and mentors graded around 74%. One of the reasons being, in case of difficult team members I usually end up taking their tasks and completing on time. However, gradually have realised to have a group mindset and encourage member contribution by group inspiration and motivation.
1) LITERATURE REVIEW:
Paying attention to conflict situations (Bakken, E. (2007)) and making sure it resolves within the meeting and implementing four Ps of effective meeting for preparing and conducting meeting, before every group assignment meeting (Carlopio, J., & Andrewartha, G. (2008)).
Purpose: The reason for organizing a meeting should by clearly communicated amongst team members by circulating meeting agenda, which will help team members come, prepared for meeting.
Participants: Depending on the purpose of meeting the right number of people and type of participants (homogeneous- heterogeneous, competition- cooperation, task – process are invited.
Planning: To ensure that the meeting is productive and efficient, everyone should be prepared for the meeting agenda, which is well structured as per the common rule and leads to final decision.
Process: Process is defined as actual conduct of meetings with seven steps stated as follows: 1) Review 2) Introduction 3) Discussion of Ground Rules 4) Report 5) Display 6) Participation 7) Summarise.
2) SKILL DEVELOPMENT ACTIVITY:
I plan to maintain a diary on daily basis. After team allocations, I will then analyse my actions during the task by writing down and reflect on these five questions;
How successful was the building an efficient team from my point of view?
How did the others respond to mine team-building decisions? Was there any conflict?
What modifications can I make next time according to own feelings and from the feedback of my co-workers?
In what ways can I contribute to make my team better at work?
How can I improve my interpersonal relationships with difficult team members, which could be by analysing their attitude in order to encourage them to participate?
Also need to follow the 4 Ps principle to ensure active participation of each team member, no stress to anyone in team, motivate the team to achieve goals and effectively allocate teammates by identifying the strengths and weakness and assuring that teams are competent to work virtually as well as in office.
3) ASSESSMENT OF SKILL DEVELOPMENT:
During this semester, I have a chance to be a part of team and would do my best to be an efficient team player as well as be chosen to lead by vote. This will inculcate in me a sense of confidence to build effective teams for future work. Also would take the evaluative assessment again to ensure team-building skills have been significantly improved.
(Allan & Waclawski 1999; Atwater & Yammarino 1992; Goleman 1998a, 1998b; Parker & Kram 1993; Sosik & Megerian 1999).
Bakken, E. (2007). Twelve ways to build an effective team. Ceridan Corporation.
Carlopio, J. Andrewartha, G, 2012.  Developing Management Skills: A comprehensive guide for leaders. Pearson Australia
Goleman (1998b: 14)
Order Now
---