Bedford Health Show Project Management
EXECUTIVE SUMMARY:- This is a business report submission of the project plan for the exhibition at Bedford health show for Optimum healthcare solutions organisation.
INTRODUCTION
My aim for this project plan assignment is for me to attempt to explain the rationale behind the exhibition and plan a project towards this with the project milestone, potential return on investment, the budget, Gantt chart and work breakdown structure illustrated.
OVERVIEW OF OPTIMUM HEALTHCARE SOLUTIONS
Optimum Healthcare Solution is an organisation that provides physiotherapy products and services to local community, other hospitals and healthcare personnel .
They provide a treatment pathway for their patient and have specialist in physiotherapy that assist in the rehabilitation and recovery for patients that has suffered injuries.
They offer services and products such as Pilates, sports massage, watt bike testing, ultrasonography, shockwave therapy, acupuncture, myofascial taping, customised orthotics.
They are specialised in the treatment of Back pain, Musculosketal, Acupuncture, Paediatric ,sports injury e.t.c
The organisation does not just only provide physiotherapy, they also provide services in the area of  Neurotherapy, fitness and elite fitness which enables the organisation to provide rehabilitation assessment and treatment for all their patients
They have a training programme that helps in improving performance and preventing injuries.
TABLE OF CONTENTS
Contents
CHAPTER ONEÂ  SUMMARY AND INTRODUCTIONÂ Â Â  PAGE1
CHAPTERÂ  TWOÂ Â Â Â Â Â Â Â  RATIONALE FOR EXHIBITIONÂ Â Â Â Â Â Â Â Â Â Â Â Â Â Â Â  PAGE 2
CHAPTER THREEÂ  PROJECT PLAN MILESTONESÂ Â  PAGE 3
CHAPTER FOURÂ Â Â  RETURN ON INVESTMENTÂ Â Â Â Â Â Â Â Â Â Â Â Â Â Â  PAGE 3
CHAPTER FIVEÂ Â Â Â Â Â Â Â Â  COST AND BUDGET PLANPAGE 4
CHAPTER SIXÂ Â Â Â Â Â Â Â Â Â Â Â  OBJECTIVESÂ  OF EXHIBITIONÂ Â Â Â Â Â Â  PAGE 5 &6
CHAPTER SIX (B)Â Â Â Â Â Â  PROJECT STAKEHOLDERSÂ Â  PAGE 7
CHAPTER SEVENÂ Â Â Â Â Â  GANTT CHARTÂ Â Â Â Â Â Â Â Â Â Â Â Â Â Â Â Â Â Â Â Â Â Â Â Â Â Â  PAGE 8
CHAPTER EIGHTÂ Â  WORK BREAKDOWN STRUCTUREPAGE 9
CHAPTER NINEÂ Â Â Â Â Â Â Â Â Â  PROJECT LIFE CYCLEPAGE 10
CHAPTER ELEVENÂ Â Â Â Â  4DS OF THE PROJECTPAGE 11
CHAPTER TWELVEÂ Â Â Â Â  CONCLUSIONPAGE 11
CHAPTER TWELVEÂ Â Â Â Â  REFERENCESPAGE 12
RATIONALE/BENEFITSÂ  FOR EXHIBITING AT THE BEDFORD HEALTH SHORE
Exhibiting at a trade show is a way for one to market its products and services
It will enable the organisation(OHS) to advertise their healthcare products and services to 5,750 visitors at the exhibition, at least majority of these visitors wouldn't have heard about the organisation.
It will create more awareness about (OHS) products and services which might lead to global recognition because the visitors will be diverse from different countries .
It's an opportunity to network on a larger scale with other healthcare service provider at the exhibition.
It's an opportunity to get more clients/patients to patronise the products and services offered which will eventually lead to the creation of a customer database.
It will help to improve the brand image of (OHS) and help to know what other healthcare provider competitors are up to.
It's a good marketing strategy to start off sales of (OHS) products and services
It leaves an impression on potential clients/patients
It will ultimately end up increasing sales for the organisation and to promote (OHS)
RETURN ON INVESTMENT
As the project planner we are estimating a profit of £5000 after investing £5000 which is a 100% returns on investment which is of benefit to the organisation.
Return on investment = ROI =net profit/investment*100
ROI=5000/5000*100=100%
We are estimating 1800 new clients will be recruited at  the exhibition out of the 5,750  that will attend the exhibition. There is also the possibility of more clients  patronising the services and products.
From this estimate , we are assuming we'll break even after the exhibition.
The desired result of getting more sales will be realised and the project stakeholders will ultimately be satisfied.
PROJECT PLAN MILESTONES
Cost or suggested Budget(£5,000)
Time
Resources e.g. equipment, machinery, Stationeries
Training of staff
Project start and end date
COST/BUDGET PLAN FOR THE BEDFORD EXHIBITION SHOW
| | |
| --- | --- |
| VENUE RENT(SHELL SCHEME STAND) | £900 |
| TRANSPORT TO & FRO OF EQUIPMENTS | £250 |
| HIRING FURNISHING LOCALLY (DESK,CHAIR & TABLE AT BEDFORD) | £200 |
| ADVERTISEMENT FOR SHOW | £200 |
| PRINTING POSTERS/LEAFLET | £200 |
| GIFT MUGS/PEN/T-SHIRT WITH (OHS)LOGO | £200 |
| INTERNET CONNECTION AT EXHIBITION CENTRE | £30 |
| STAFF WAGES FOR THE DAY | £800 |
| STAFF TRAINING | £250 |
| HOTEL BOOKING FORÂ  10 STAFF MEMBERS | £750 |
| HOSPITALITY FOR POTENTIAL CUSTOMERS E.G DRINKS, TEA, COFFEE | £100 |
| CLEAN UP SERVICES | £120 |
| MISCELLANOUS | £1000 |
| TOTAL EXHIBITIONÂ  COST | £5000 |
OBJECTIVES OF THE EXHIBITION
The Objectives of exhibiting at the Bedford health show is basically to make sales for(Optimum Healthcare Solutions) products and services at the exhibition event by recruiting at least 1,800 clients .
Motivate the team by the seminars and training they will be attending to gain insight into how to engage the potential customers of optimum healthcare solutions.
Contact potential patients or customers after the exhibition event with telephone calls, email, text messages, arranging interviews, letters through the post to serve as reminders and social media networking.
To ensure that within 24 hours of collating data  and creating a database ,all new potential customers would have been communicated with and arrange an assessment with them as soon as possible.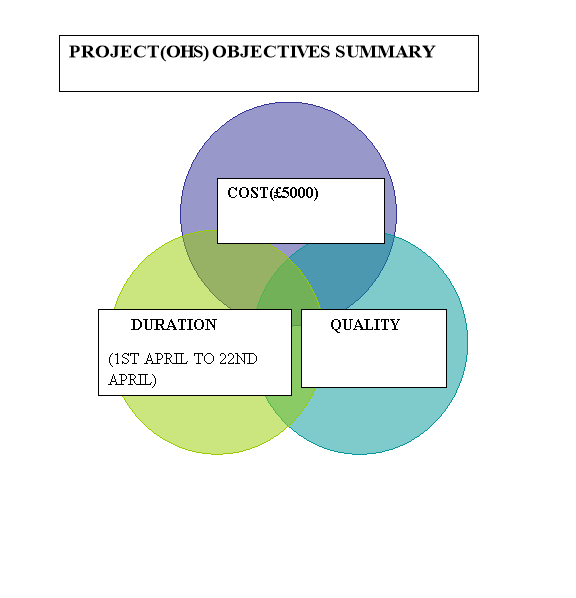 PROJECT STAKEHOLDERS
PROJECT MANAGER :- is a stakeholder in the sense that he or she has the responsibility of ensuring that the project is prepared, planned properly, manages risks and executed accordingly.
CLIENTS/PATIENTS:- Are stakeholders in that the OHS has a care of duty to provide and can't afford to fail them because they pay for the products and services.
LOCAL COMMUNITY:-Are stakeholders as well because whatever decision is been made by the healthcare providers management(OHS) and their activities, the community will be impacted and affected by these.
STAFF:-Are stakeholders because they are impacted by either the success or failure of the organisation and the management decisions.
GOVERNMENT:- Are stakeholders because they expect the healthcare providers to provide quality healthcare services to patients  and  to pay income tax (which is a revenue for them).
BOARD OF DIRECTORS:- They as a service provider needs to be financially sustainable .
GANTT CHART OF PROJECT PLAN FOR OPTIMUM HEALTHCARE SOLUTIONS EXHIBITION AT THE BEDFOR HEALTH SHOW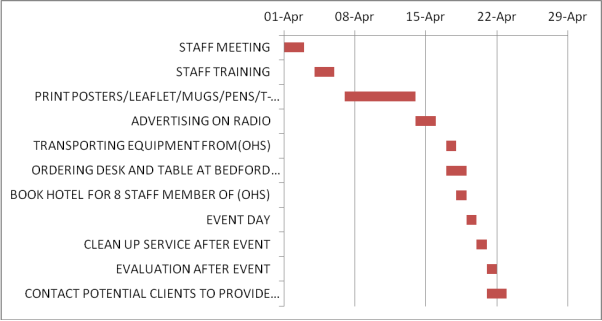 (Owadokun, K. et al, 2017)
The project plan has a time frame or duration of a start date from 1st of April 2017 and an end date of 22nd of April 2017 with the activities involved in achieving the project plan and this is clearly represented on the Gantt chart.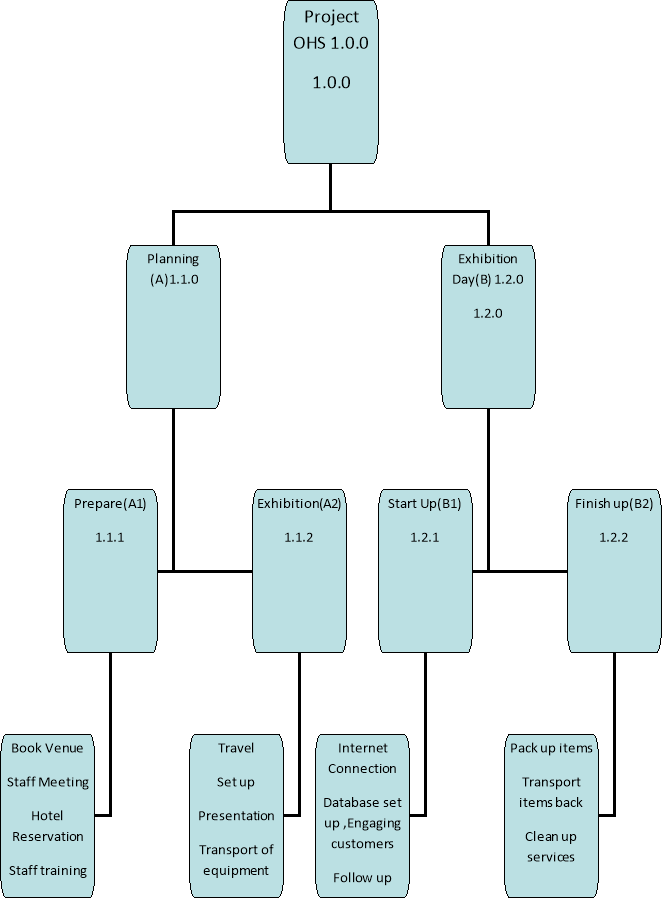 PROJECT LIFE CYCLE FOR THE (OHS) EXHIBITION

PROJECT INITIATION:- A team was put up to brainstorm how the project plan should go and set aims and objectives for the project, a feasibility study was done about the Bedford health show
PROJECT PLANNING:-The plan of how to get the project working was put in place by the team after brainstorming and coming to a conclusion, and as well the budget breakdown estimate for the exhibition was concluded after analysing what it will cost to effect the project, a communication plan was also put in place so the team can effectively communicate .e.g. a new email account was created and a mobile and landline line was given to all team members
PROJECTÂ  EXECUTION:-A time management was put in place that is represented on the Gantt chart on how to monitor the progress of the project.
PROJECT CLOSURE:- A review and assessment of the project executed is  put in place and also to communicate with potential clients 24 hours immediately after the exhibition by ensuring they are communicated with through letters, phone calls, email, social media, text message reminders e.t.c and also communicate back to the stakeholders about the success of the exhibition and the lessons learned are documented.
4Ds OF THE PROJECT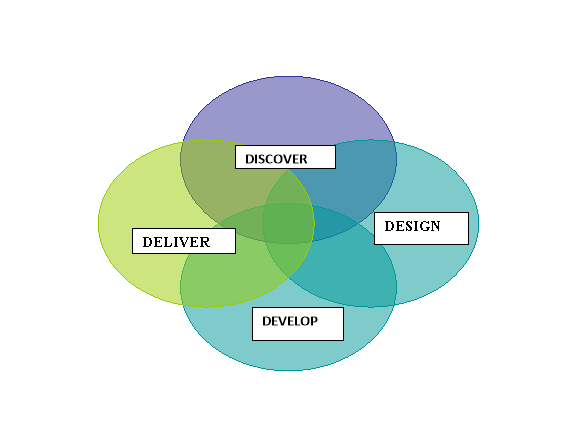 DISCOVER:-When the staff at the exhibition where engaging the customers or potential patients, they tried to get information off the customers about the use of the products and services during demonstrations with the equipment at the venue .
DESIGN:– The staff will be encouraged to put themselves in the shoes of the potential clients for (OHS) using the products and services and encourage questions from the customers and the time and duration needed to actualise the project plan was calculated which was between the first of April to the twenty second of April 2017 .
DEVELOP:-Several meetings and Training of staff will be done on how to communicate sales processes of (OHS)products and services and the activities highlighted in our Gantt chart was done, we also got appropriate data from the customers.
DELIVER:-Appropriate feedback will be collected from the customers at the exhibition and we'll evaluate this feedback with our objectives if it's been realised
CONCLUSION
I have learnt from undertaking this research that it is realistic to break even after investing £5000 and get a return of 100% on what is invested through strategic marketing, social networking and engaging clients one on one  such as exhibiting on a larger scale to a wide audience that is more diverse than in the local community and hospitals
REFERENCE
http://www.optimum-hcs.com
Owadokun, K. Begum, N. Mostafa, M. Costa,Ginario. and Chowdury, Dilruba(2017) OHS Gantt chart
Order Now
---